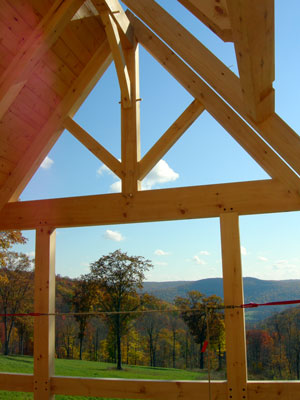 Timberpeg
One of the most time-honored methods of house and barn construction is the post and beam timber frame. I am a proud representative of Timberpeg® Post and Beam Homes. We have been building Timberpeg® homes in the Sugarloaf area since the early 1980's. Timberpeg® has really figured it out, be it a cozy cottage on a lake, at the shore, a farmstead in the country or a magnificent mountain retreat. Timberpeg® ships post & beam houses and barns all over the country.
The Timberpeg® building system incorporates the artistry of the mortise and tenon technique of our forebears with cutting edge technology with today's modern machinery. This system produces the finest joinery and tightest fitting frames in the industry. The system coupled with Timberpeg® architects and design team allows Linwood Doble Custom Home Builders to help customers design, site and build a Timberpeg® post and beam home on the customer's land that fits the needs, dreams and the budget. We have the resources and man power to handle the construction process from start to finish.
In some cases, a potential home owner might want to use their own builder or contractor. As an independent representative of Timberpeg® and being trained by Timberpeg® , I can work with the owner and their builder to facilitate the design, placement of the order, shipment and delivery of the finished package to the building site in a timely manner that fits the construction schedule.